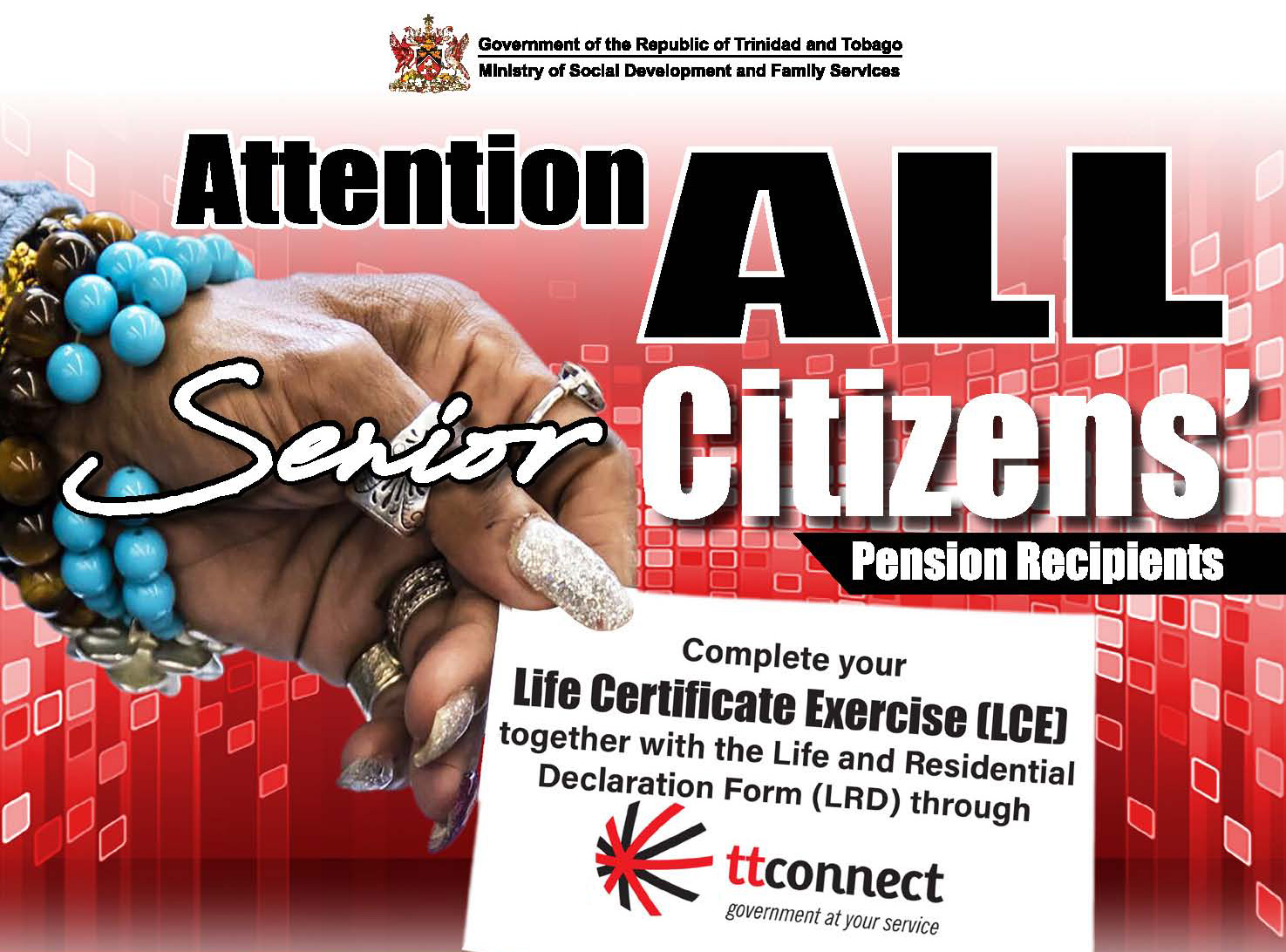 FEATURED SERVICE:
The Ministry of Social Development and Family Services recommenced the Life Certificate Exercise (LCE) and embarked on the Life and Residential Declaration Form (LRD) from April 2022. ttconnect has partnered with the Ministry and will provide this service for your convenience at our ttconnect Service Centres.
The National Information and Communication Technology Company Limited (iGovTT), wishes to convey our sincerest apologies to the public for the extended time in which our ttconnect portal at www.ttconnect.gov.tt has been inaccessible. This situation, which emerged solely as an issue at the ttconnect portal, has affected several services, inclusive of ttconnect ID, e-Tax, and TTBizLink.

While we continue to work towards a resolution, we are informing our clients that e-Tax and TTBizLink, traditionally accessed via ttconnect ID, are available through alternative routes.
Clients who already have their ttconnect ID, can continue to conduct their e-Tax and TTBizLink transactions:
Already have a ttconnect ID and registered for e-Tax and/or TTBizLink services?
For clients who do not have their ttconnect ID, please refer to the subsequent sections on acquiring your temporary ttconnect ID for the respective e-Tax and TTBizLink services:
Don't have your ttconnect ID and need to access TTBizLink services?
Don't have your ttconnect ID and need to access e-Tax services?
Please note that only until the ttconnect ID service is restored on the ttconnect portal, persons requesting the e-Tax and or TTBizLink service, will be provided with a separate Temporary ttconnect ID number: one specific to each service.
ttconnect ID account holders who have not yet applied for either the e-Tax service or the TTBizLink service, can do so at any of the ttconnect Service Centres, or via any of the email addresses, and the enrolment shall be completed within two (2) business days for e-Tax and 3 hours for TTBizLink.

We would like to remind our silver citizens that the convenience of our automated Senior Citizens' Pension and Direct Deposit application process remains available to you.
For our future leaders, please continue to either visit the ttconnect Service Centres or send us an email to complete your GATE e-Service ID registrations.