Don't have your ttconnect ID and need to access TTBizLink services?
New clients desirous of acquiring a ttconnect ID, can do so by visiting any ttconnect Service Centre or applying via email at any of the email addresses with any two (2) of the following Identification Documents (Must be valid):
a) Birth Certificate
b) Driver's Licence / Permit
c) National Identification Card
d) Passport
You will be required to sign the last page of the ttconnect ID Disclaimer provided for you at the ttconnect Service Centre. For email applications please click here to download, print and sign the ttconnect ID Disclaimer.
Complete and sign the TTBizLink Application Form A – Individual or
Complete and sign the TTBizLink Application Form B – Company/Business
Note that part 3 or part 4, occurs simultaneously upon the application process for the ttconnect ID.

Within three (3) hours of your application, a ttconnect representative should, via email, advise you of your temporary ttconnect ID number.

For email applications only – a selfie of the applicant holding one of their valid photo IDs is also required.

Upon completion of the TTBizLink registration, an email titled TTBizLink Password Assistance, will be emailed to you. This email will contain a link that will allow you to create a new password and security questions in order to login to the TTBizLink website using your email address. Once you have set up this account, please visit the TTBizLink website www.ttbizlink.gov.tt and login using the Continue to login with TTBizLink ID option as shown below.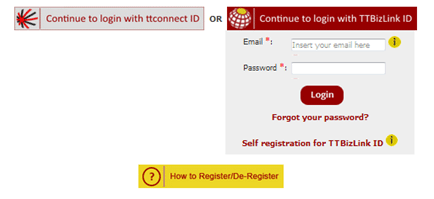 With the activation of your account, you can gain access to the following TTBizLink e-Services as per your request:
E-Permits and Licences – Agent/Broker
E-Permits and Licences – Trader (Importer/Exporter)
E-Company Registration
E-Certificate of Origin
E-Goods Declaration
E-Work Permit
E-Development Permits (DevelopTT)
You may contact the TTBizLink Help Desk for assistance with your selected modules via support.ttbizlink@gov.tt or by calling 800-4SEW (4739)